Brass Joint Pipe Fittings Cross Fitting Low MOQ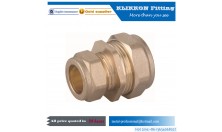 Brass Joint Pipe Fittings Cross Fitting

Klikkon has its own R&D department that, in close cooperation with the client, customizes new products from idea to end product and, following a sampling phase, prepares them for production.
From the Klikkon factory You can expect products of top quality.
Our service, technical advise and logistic handling are an important part of our quality. We guarantee quality with the next basic principles in mind:
· Continuous attention to prevent defaults (zero defaults)
· Maximum on time delivery
· Continuous improvement process.
All Business Units of the Klikkon group work according international quality standards certified according ISO 9001:2008.
Material used for Brass Fittings
Straight bodies: Barstock CA 360 or CA 345
Shape bodies: Extruded barstock CA 360 or Forged CA 377
Nuts: Barstock CA 360 or Forged CA 377
Brass Joint Pipe Fittings Cross Fitting
Brass Joint Pipe Fittings Cross Fitting
| | | |
| --- | --- | --- |
| Material Standard | Cu铜 | Pb铅 |
| HPb59-T(企) | 57~59 | ≤2.8 |
| HPb59-SG | 57~59 | ≤2.8 |
| GB-HPb59-1抛光 | 57-60 | 0.8~1.9 |
| HPb59-SG2 | ≥57 | 0.8~1.9 |
| 挤压HPb59-T(企) | 57~59 | ≤3.0 |
| 抛光HPb59-T(企) | 58~60.5 | 0.8~1.9 |
| 无铝抛光HPb59-T(企) | 58~60 | ≤2.3 |
| 抛光挤压HPb59-T | 57~59 | ≤2.8 |
| 普抛HPb59-T(企) | 57~59 | ≤2.8 |
| HPb59-T(A) | 57~59 | ≤3.0 |
| HPb58-3 | 57~59 | 2.5~3.5 |
| H62 | 60.5~63.5 | ≤0.08 |
| HPb62-0.8(国) | 60~63 | 0.5~1.2 |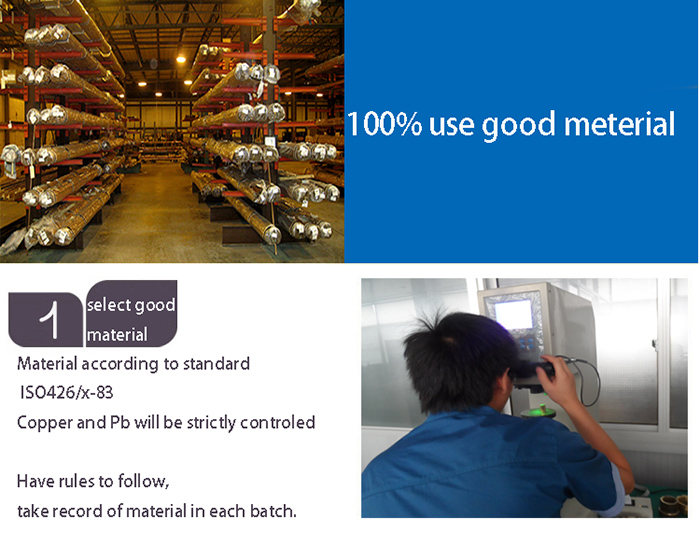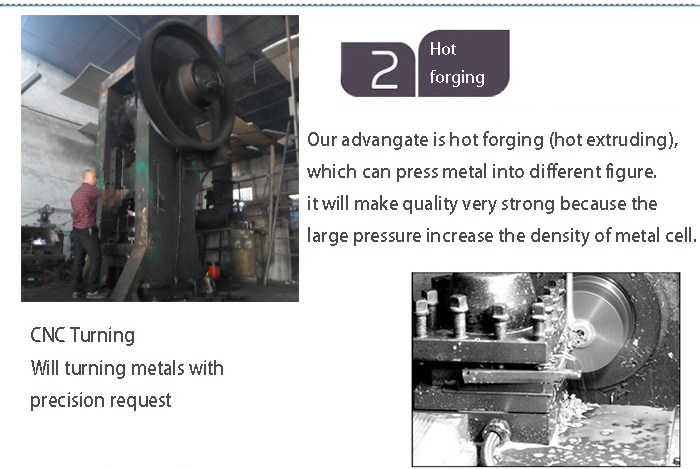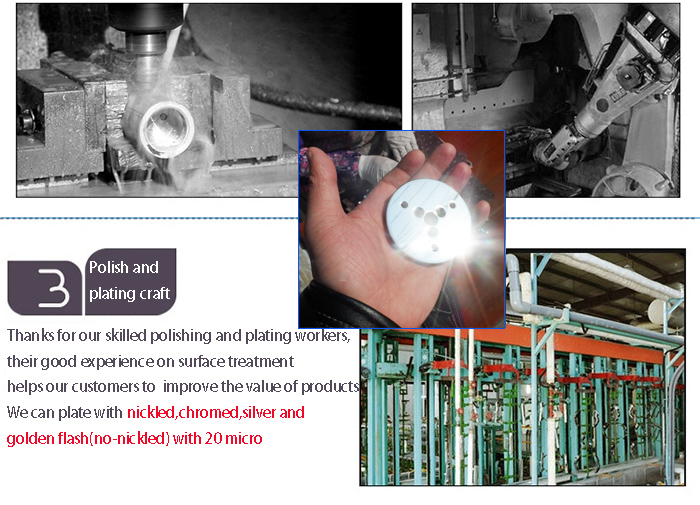 Klikkon brass certification

Pos.

Size

Quality

TONS

1

10

Hpb58

1.3

2

15

Hpb58

0.9

3

25

Hpb58

2.2

4

30

Hpb58

2.8

Chemical analysis

Pos.

Cu

Sn

Pb

Zn

Fe

Ni

Si

Mn

Al

ag

%

1

57.32

0.8

0.75

rest

0.375

0.262

0.02

0.02

%

2

58.22

0.96

0.9

rest

0.387

0.267

0.01

0.02

%

3

57.03

1.11

1.1

rest

0.378

0.27

0.01

0.02

%

4

58.18

0.97

1.2

rest

0.411

0.26

0.01

0.02

Mechanical values

Pos.

Yield stress: N/㎡

Tensile strength:N/㎡

Elongation:%

Reduction of area: %

Impact V:J

Hardness:

1

135

360

29.5

2

128

370

30

3

135

365

29.8

4

140

375

32
Extruded Barstock Fittings Hexagon, round and shaped bars are extruded in the configuration required, drawn to size, cut to length and straightened. First a solid round billet (8 to 12 inches in diameter) is heated to the pliable state and forced by pressure of approximately 80,000 pounds per square inch through a die. The resulting continuous length of bar is cooled and then drawn through dies to the desired external size. ( The drawing process also controls the temper). After straightening, the bar is ready for machining. The process produces a dense, nonporous material somewhat stronger in the longitudinal direction due to an orientated flow of the grain.
Forged Fittings Material for forging is extruded in round bars, cut to length and straightened. (At this point in the process, forging rod differs from round extruded machinable bars only in temper and chemical properties). After straightening, the bars are cut again into slugs (short lengths), reheated to the pliable state and pressed under a pressure of approximately 25,000 pounds per square inch between upper and lower die cavities. After cooling, the flash is trimmed away and the forging blank is ready for machining. This process of forming under extreme pressure produces a uniformly dense material of exceptional strength. Because grain flow follows the contour, the fitting has high impact strength and is resistant to mechanical shock and vibration.
Why Brass Fittings? Brass fittings are popular because they are strong and durable and hence widely used in industrial and residential applications. The use of brass to make various fittings provides a distinct look because of its yellow color. The advantages of brass for fittings include its good corrosive resistance, and also its plating, joining, polishing and finishing characteristics. Brass as a material is easily machined and hence can be given any shapes of the various types of fittings available.
Brass Joint Pipe Fittings Cross Fitting
Features of Brass Fittings: Brass fittings have certain unique features which make them highly demanded. Some of these properties are as follows: • Brass fittings are characterized by good strength. • These fittings have excellent high temperature ductility. • They have reasonable cold ductility. • Fittings made of brass have good conductivity. • They are excellent in corrosion resistance. • Brass fittings have good bearing properties. • They have low magnetic permeability.
•Typical Application Grease, fuels, LP and Natural gas (available on special order), refrigeration, instrumentation and hydraulic systems. •Pressure Operating pressure up to 1200 PSI. •Vibration Fair resistance. •Temperature Range -650 F to +2500 F (-530 C to +1210 C). •Material CA360 Brass for Barstock fittings. CA377 Brass for forged fittings. •Used With Brass, bronze, copper, steel, aluminum and iron pipe. • Tolerance +/- .02 on all dimensions. Dimension Data can change without notice. Please call us when dimensions are critical. •Conformance Meets specifications and standards of ASA, ASME and SAE. • "L" at the end of a Part# means Light Pattern - these fittings are completely interchangeable with full pattern fittings, but have been modified in some way. This modification is usually in the length of the pipe threads. Used in plumbing and light industrial applications. •Assembly Instructions 1- Tighten approximately 2-1/2 turns past hand tight. 2- Fittings with Everseal tighten two turns past hand tight. Brittle materials require special cautions. • for larger sizes see bronze fittings on page 208 • see page 271 for plastic pipe fittings.
Brass Joint Pipe Fittings Cross Fitting
Our Klikkon Brass Fittings and Nipples are carefully produced and threaded to industry specifications to provide a secure and trusted fit. While primarily developed for carrying water in commercial plumbing and OEM applications, they are also used in oil, gas and steam applications. Durable and highly resistant to rust and corrosion, every red brass fitting and nipple is 100% inspected and quality tested.