Free threaded Forged brass flange barb hydraulic hose fittings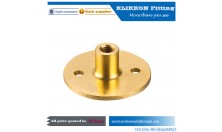 Flange Brass Fittings for Adapter Solder Connection
brass flange fittings

High pressure brass threaded,flange end hose fittings rotary joint

OEM G2 1/2" brass forged flange,brass pipe fitting,npt brass flange fitting for oil and gas
Klikkon Industrial are dedicated to providing innovative products and solutions, knowledgeable support and professional service to our customers that is second to none.

Klikkon products are guaranteed to provide the consistently high quality and unrivalled performance that our customers demand and our product range is manufactured with comprehensive engineering and quality assurance expertise gained over many years experience in the brass fitting market.
What Klikkon can offer?
Klikkon treat every customer with same, no matter customer are from small company or large, When customers are happy, we're happy.

If you have a design challenge, we're ready. We have the expertise and capacity to take on your project challenge, whether the design is prototype-ready or still in the concept phase. For projects in the early phase, our engineers work closely with you to convert those ideas into final drawings. For projects further developed, we ensure part designs are optimized for full-scale production.
We pride ourselves on our Engineering staff. Their comprehensive understanding of the product development process, along with their creativity, enables them to often provide more effective answers than our customers originally anticipate.
Flexibility? We've got it. We accommodate drawings in a variety of formats, including 3D models, hard copy schematics, or drawings rendered in Pro/E, SolidWorks and AutoCAD
1.Diverse materials and configurations are available
2.Precision machined components ensure perfect deformation of the ferrules and tubing
3.Hardened threads and smoothed surface finishes extend fitting life and prevent sticking of the matching threads.
4.Female nut threads are silver-plated to minimize the friction with body threads
5.Radius junction design within elbows provides smooth flow path
6.Fittings are easy to disconnect and retighten.
7.All fittings are cleaned to remove oil, grease, and loose particles
8.End connections with NPT, ISO, BSPP, BSPT, metric threads and so on